Swachh Bharat Aviyaan - One step for the service towards Nation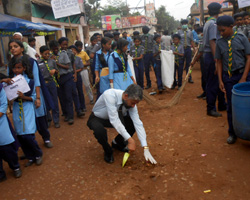 The Scout and Guide cadres of Ramakrishna Vivekananda International English High School, Chakulia, Dist: East Singhbhum, have taken the initiative towards the cleanliness programme initiated by our honourable Prime Minister Shri Narendra Modi Ji on the National Auspicious day 2nd. Day of October. One more step has been taken towards the Swachha Bharat Abhiyaan by these scout cadres. The cleanliness effort has been taken place from The Birsa Chowk to Chakulia State Bank of India, approximately some 2.5 km under the guidance of Mr P.K. Mahanty, Mr Kanhai Lal Kisku and Mrs Daljeet Kaur. The Principal of the school Mr. Sandip Roy and the Vice Principal Mr Saptarshi Chakraverty have much appreciated the Scout and Guide cadres and the above mentioned teachers for their incredible service.
Ramakrishna Vivekananda International English High School, Chakulia was established in the year 2000. From the beginning of the school, it is committed to the uplift of the students especially the under privileged tribal got off to start with the avowed aim of imparting education in the interior most villages of the bordering areas of West Bengal, Jharkhand, Bihar and Odisha. Staying connected with the parents from a long time, we found that the school is the best way to reach them. Our findings confirmed the facts that poor language skill and incapacity to communicate are the problems at large of the students of this region. Thus we have made an English medium school with an emphasis on communicative functional approach which would develop their competence creativity to the fullest extent. A considerable care and caution is being taken to help the students develop the skill of learning English correctly in real life situations. Proper skill in English communication is what we seek to impart to our children, who in their formative stage would feel encouraged to learn with a passion. In this 21st. century era of careerism and cut-throat competition in various professional spheres, both communicative and creative English have a wider acceptability in modern time. In the work of "Imaging India" it is most pertinently remembered that' the doors of employment opportunities would be left wide open to the English knowing people particularly in the age of globalization.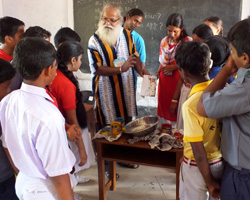 RANG-MATI-MAHUSH
Celebration of Silver Jubilee Ceremony of RANG-MATI-MAHUSH (Organised by: Jhargram Art Academy in collaboration with RVIEHS, Chakulia)